Tampa has put itself on the culinary map with restaurants that are as delectable as they are diverse. There's more to this Florida Gulf Coast city than fresh surf and turf. From contemporary Italian bistros to a Native-inspired fusion restaurant, Tampa has a collection of trendy eateries that will tantalize your palate.

The stylish Hyde Park Village also boasts some high-end eateries beloved by Tampa natives. These restaurants emphasize ingredients that are local, in-season, and organic, and they are housed in chic settings.

Regardless of which type of cuisine or atmosphere you're craving, this guide has the inside scoop on the best restaurants in Tampa.


Bern's Steak House
For the most upscale dining experience in Tampa, reserve your spot at Bern's Steak House.

The origin of this local family business dates back to 1923, when the eatery's founder, Bern, was born. Since Bern's opening, the Steak House has been one of the unique culinary gems in all of Tampa.

Bern's cuts their prime steaks to order and cooks up vegetables straight from their farm. Some of the restaurant's specialty cuts include a Japanese wagyu strip, dry-aged pork chop, grass-fed Delmonico, and a rack of lamb. All meat entrees come with a French onion soup au gratin, house salad, baked potato, and vegetables of the evening.

The Steak House has a magnificent wine cellar with over 6,800 different wines and half a million bottles. Bern's Wine Cellar has even received the Grand Award from Wine Spectator, which is the magazine's highest award. Whether you're looking for rare or vintage wines, Bern's has a fine selection of red, white, and sparkling.

Another standout feature at Bern's is its Harry Waugh Dessert Room. Guests are seated in intimate booths crafted from old wine casks and are served extravagant desserts and after-dinner drinks. Handmade desserts, such as Bern's 12-layer chocolate cake and spiced apple bread pudding, are bound to satisfy your sweet tooth, as are the dessert beverages.

The exquisitely aged steaks, world-class wine selection, and famed dessert room make Bern's Steak House an iconic spot in Tampa.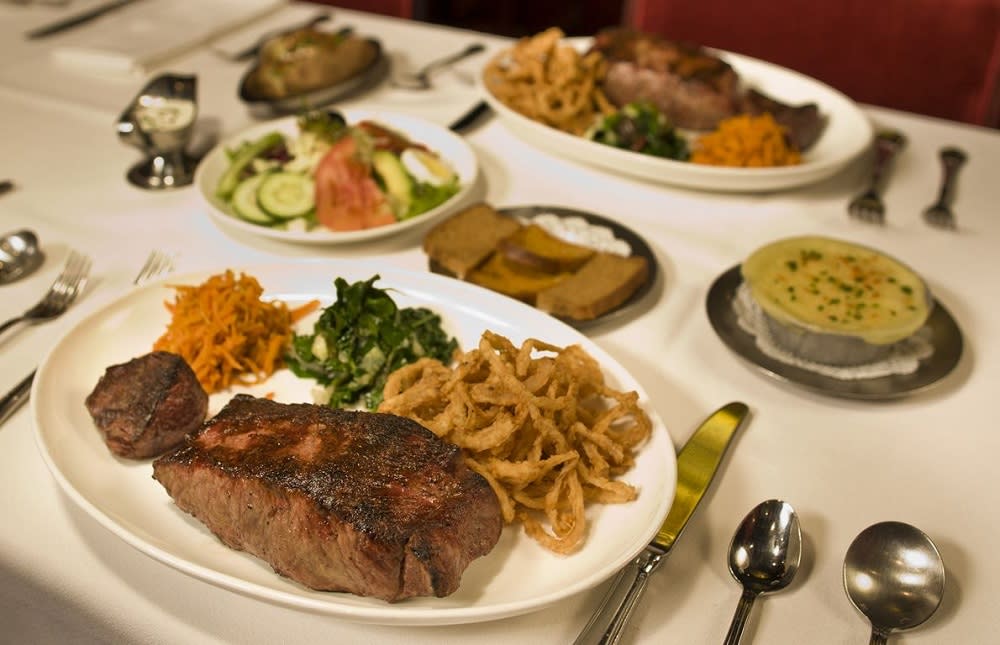 Photo courtesy of Tripadvisor
On Swann
On Swann is dedicated to serving tasty local and organic food. Located in Hyde Park Village, this contemporary American eatery offers seasonal brunch, lunch, and dinner menus.

Tampa roots run deep at On Swann, as the restaurant sources most of its ingredients from small companies in the community. On Swann gets its sourdough bread from Jamison B. Breadhouse Bakes and produce from First Leaf Farms.

This chic restaurant features an open kitchen concept in which diners can share lighter dishes or choose their own coursed meal. Some of On Swann's popular brunch items include a croissant with orange honeycomb butter and Moroccan baked eggs with lamb sausage, tomato date sauce, Greek yogurt, and pita. For lunch, you can't go wrong with the saffron arancini with chorizo and manchego or artisan charcuterie boards. If dining at On Swann for dinner, the short ribs, mahi-mahi, or steak frites are all excellent paired with fresh vegetables.

On Swann also crafts specialty cocktails that are twists on classic drinks. Examples are the walnut maple old-fashioned and the Negroni Bianco. On Swann serves wine and other spirits as well.

Take part in a dining experience at On Swann that is as delicious as it is thoughtfully sourced.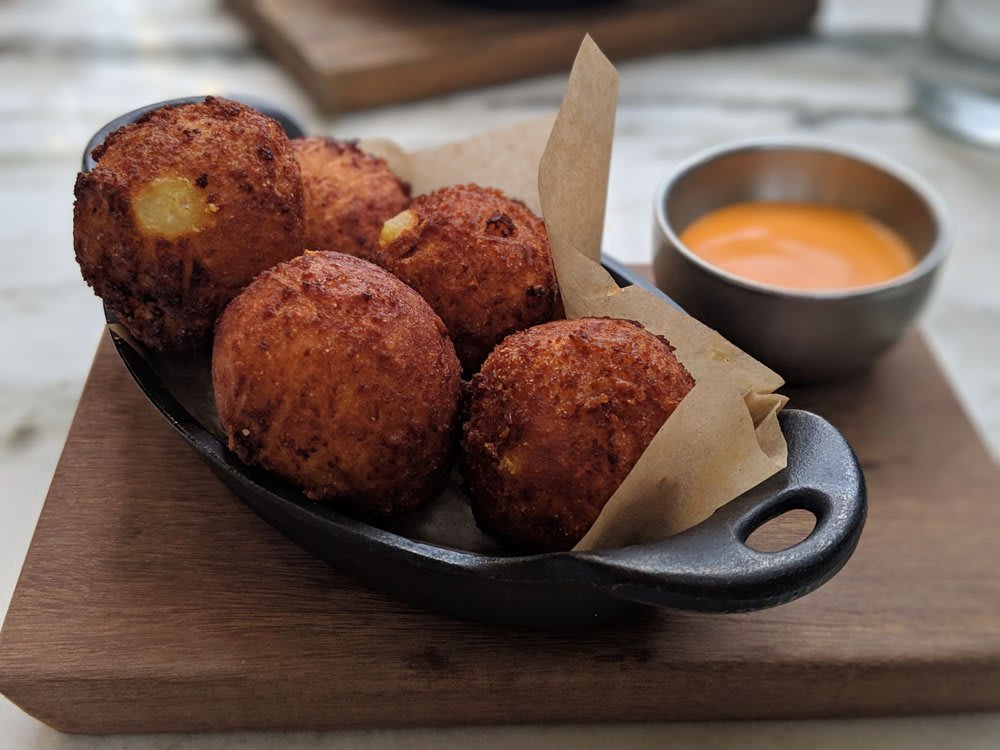 Photo courtesy of Yelp
Cena
Savor authentic Italian dishes at the stylish Cena. Cena — which means supper in Italian — is all about the flavors of Italian cuisine.

Chef Michael Buttacavoli uses his Italian roots to make simple yet bold culinary creations. Dinner items, such as fried artichokes, octopus salad, risotto, bolognese, and oxtail, pay tribute to Chef Buttacavoli's Italian upbringing.

Cena is known for its mouthwatering pizzas too. Go traditional with a margherita or sesame garlic pepperoni pizza. Or try something more eclectic, like a truffle mushroom white pizza or pistachio, mortadella, and buffalo mozzarella pizza. Cena has a long list of Italian wines to pair with your pizza as well.

Dine at the spectacular Cena for a meal that represents Italian heritage from start to finish.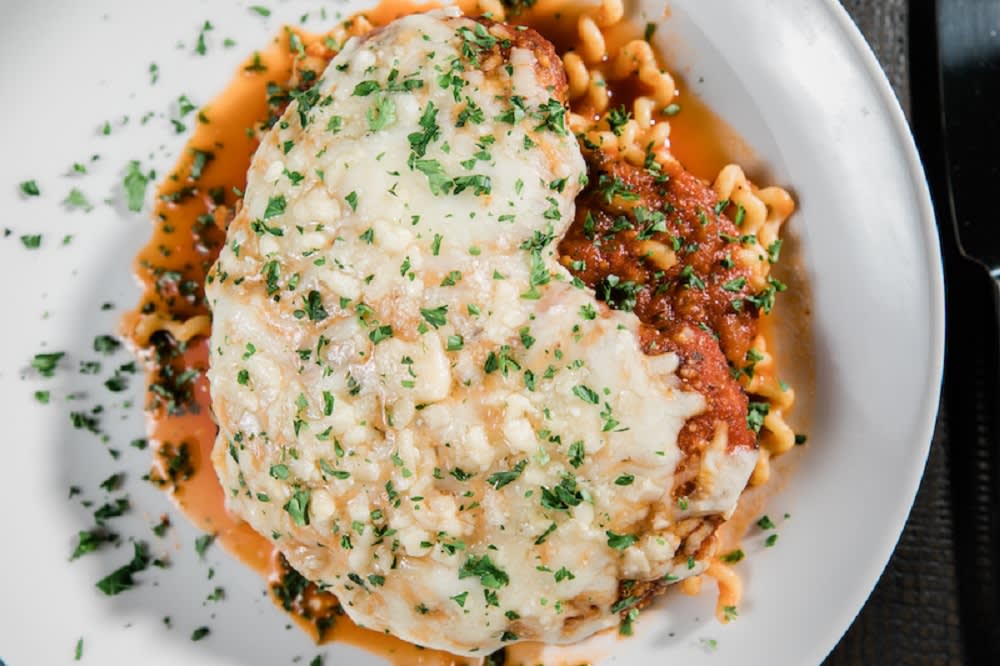 Photo courtesy of Cena
Ulele
Delight in one of the most intricate culinary fusions at Tampa's Ulele. This restaurant mixes ingredients from Floridian seas and what were once Native American lands.

Due to its multicultural influences, Ulele has diverse yet distinct lunch and dinner menus. Get adventurous and try the alligator hush puppies, grouper with smoked gouda, or gator po'boy. Ulele's oysters have been a local staple for years too. All of Ulele's dishes are beautifully prepared on their grand barbacoa grill.

The Ulele Spring Brewery is also on-site, which offers all types of craft beers. If you're not into beer, the restaurant's bar has excellent wines, spirits, and housemade cocktails.

Ulele serves vibrant Native-inspired food and drinks along Tampa's scenic Riverwalk.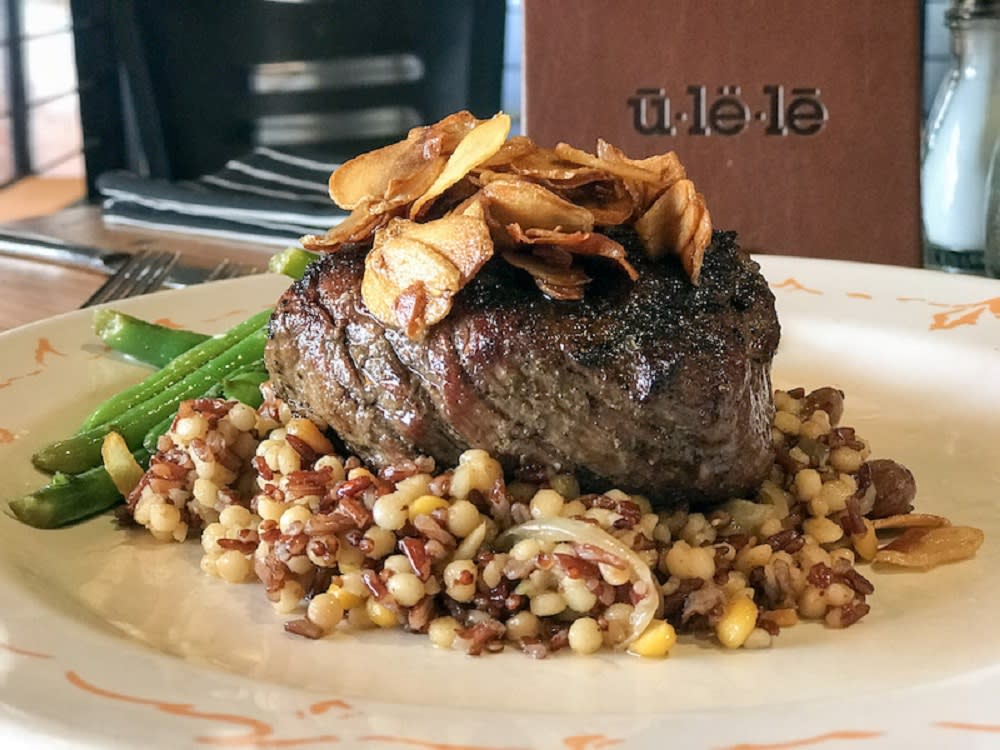 Photo courtesy of Ulele
Forbici
Forbici is a modern Italian eatery that emphasizes sharing meals with others as a language of love. Also located in Hyde Park Village, Forbici is open for brunch, lunch, and dinner.

If you're going for brunch, try the eggs Benedict with spinach and red pepper, French toast with berries and mascarpone, or house frittata with seasonal vegetables. Always popular are Forbici's panini sandwiches, salads, and grain bowls for lunch. Dinner encompasses a variety of pasta dishes, like linguine alle vodka and eggplant lasagna, along with fresh fish and breaded meats.

The pizzas at Forbici are one of the restaurant's most favored offerings. The dough is handcrafted and baked at a very high temperature to create a light crust. Pizzas are formed into both square and round shapes, which are finished off with Forbici's homemade mozzarella and the highest quality toppings. Thrill your tastebuds with the spicy diavolo, rich quattro formaggi, or earthy fungi.

Save room for dessert because Forbici has all of the Italian classics. Whether it be a slice of tiramisu, a cup of gelato, or a heavenly cannoli, this restaurant does not disappoint. Order an Italian Lavazza espresso or cappuccino with your dessert for the perfect pairing.

Share incredible Italian food among great company at the charming Forbici.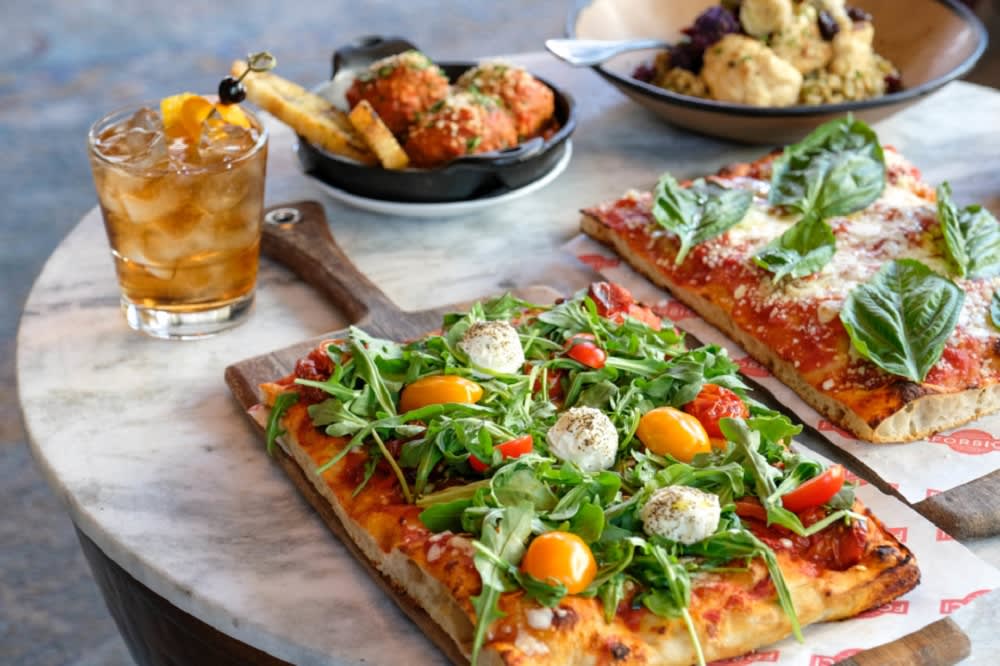 Photo courtesy of cltampa.com
Meat Market
Meat Market Tampa is one of the city's most luxurious restaurants, boasting a glitzy, Art Deco-inspired atmosphere for a glamorous night out.

Start your evening with one of their dazzling apertifs, like the white sangria for a coastal flair or a drunken oyster shooter for something heartier, and take your time perusing their extensive menu. From umami duck to wagyu filet mignon to twin butter roasted six ounce tristan lobster tail, Meat Market is serving the crème de la crème. Tuna tartare, crab and lobster cake, American style kobe meatloaf, this restaurant has it all. Enrich your dining experience with the addition of black truffle butter, seared foie gras rossini, or roasted wagyu bone marrow.

Finish off the evening with espresso and one of their decadent dessert options, like a warm cinnamon roll or double chocolate torte, or opt for something more refreshing with their citrus cheesecake. Can't decide? Go for the Meat Market Tampa sampler and have it all.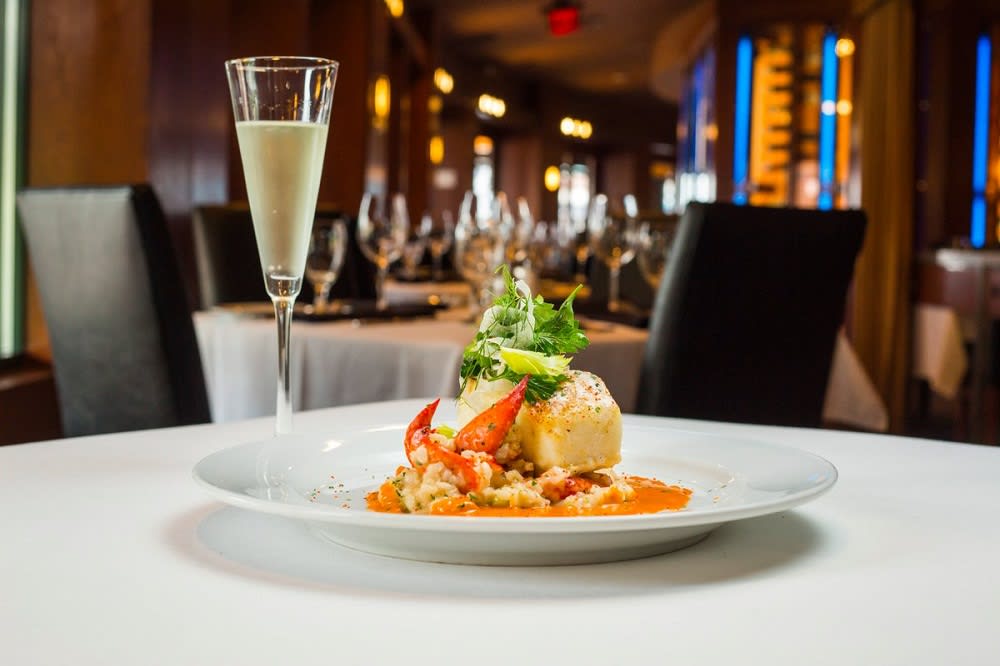 Photo courtesy of chicago.eater.com
Tampa real estate
Contact Tampa real estate agent Chris Curran if you are interested in downtown Tampa condos or Hyde Park Village homes for sale. Chris is a native Floridian with ample knowledge of the Tampa real estate market. Collaborate with Chris to find your next property in downtown Tampa or Hyde Park Village.